See on Scoop.it – Blended Learning Lab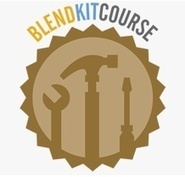 EDUCAUSE and the University of Central Florida are offering a free MOOC called 'BlendKit2014 – Becoming a Blended Learning Designer', which will run initially from April 21 to May 27.
It is aimed primarily at faculty and instructional designers, will come away with best practices for developing design documents, content pages and peer review feedback tools. In particular it will offer:
a consideration of key issues related to blended learning andpractical step-by-step guidance in producing materials for a blended course (e.g., developing design documents, creating content pages, and receiving peer review feedback at one's own institution).
– See more at: http://www.tonybates.ca/2014/04/11/a-new-mooc-on-how-to-do-blended-learning/#sthash.gV7aY9Pk.dpuf
See on www.tonybates.ca